2017 – A tremendous year for Grantham Karate
Monday, 8 January 2018
Estimated 2 minute read time.
Grantham Shotokan Karate Club is looking forward to further success in 2018 building on the fantastic achievements of all our members in 2017.
Although it seems like a long time ago, 2017 started well with Sam Trigg and Richard Stapleford passing their JKS Black Belt examinations at the first course of the year in January. Both did very well in front of a panel of senior instructors and set the tone of the year ahead.
March saw the arrival of Shihan Masao Kagawa (9thDan and Head of JKS Worldwide) for his annual trip to the UK teaching a series of stunning seminars in Nottingham with Grantham Members attending in force.
Club Chief Instructor Geoff Dixon (5th Dan) was invited to teach on the JKS April Black and Brown Belt Course with students from all over the UK enjoying Geoff Sensei's unique brand of instruction.
Club members were out in force again for the June Black and Brown Belt Course before the main event of the summer – the JKS Summer Seminar in July, this year with special guest instructor Jan Spatzek Sensei, 8thDan and head of JKS in Denmark.
After two days of incredible, world class instruction, Assistant Club Instructor Ed Dixon attempted and passed his second degree Black Belt (2nd Dan) impressing the evaluation panel and becoming the youngest 2nd Dan in the club's history.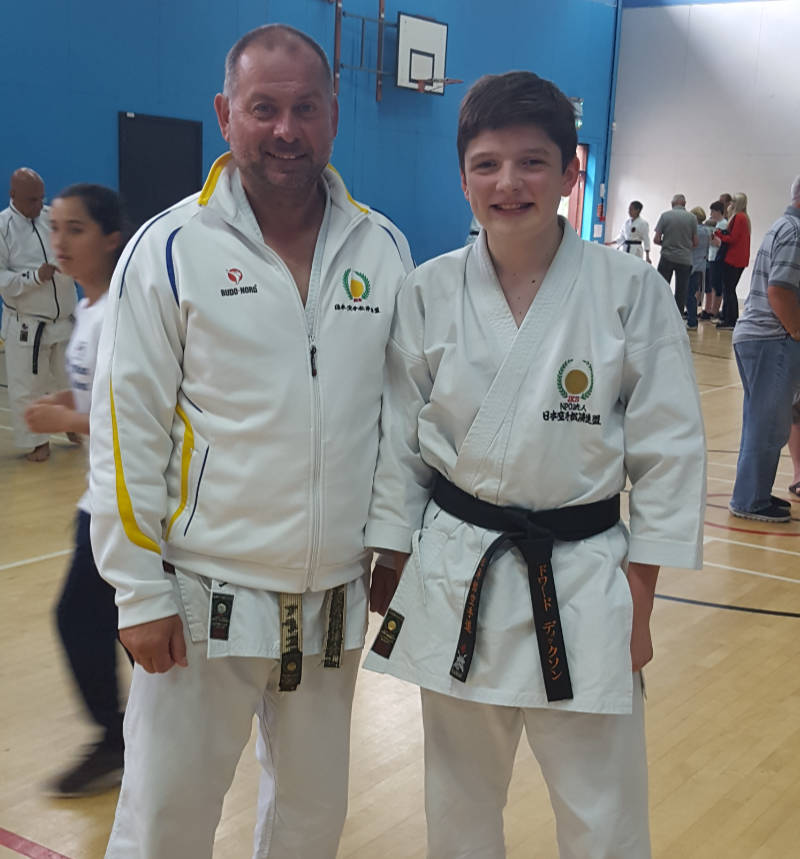 Ed Dixon with Alan Campbell Sensei - Head of JKS England & Wales following his 2nd Dan grading success.
One of the many benefits of belonging to the JKS family, is having access to a steady flow of incredible karate talent from the JKS Headquarters in Tokyo. October was no exception when Sensei Hajime Matsue arrived for the JKS August Technical Seminar. Two days of sensational karate followed culminating in three more club members – Ethan Wen Leffman and father and daughter Michal and Asia Hoffmann all successfully passing their Black Belt examinations.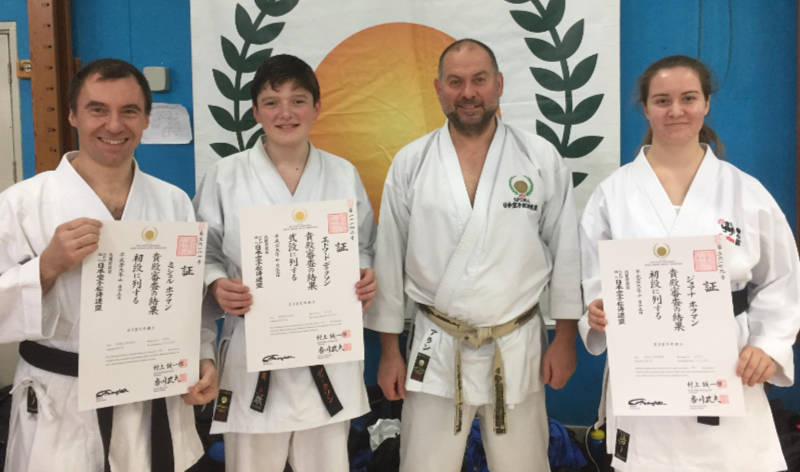 Michal, Ed and Asia with their Dan certificates.
Club Chief Instructor, Geoff Dixon is Chief Referee to JKS England and as such, the job of organising and running the National Championships falls to him. Grantham Karate Club plays a vital role in the smooth operation of the event helping with the set up and then providing essential support with referees, judges and table officials. This year's event proved to be the most successful to date and continues to endorse JKS' reputation for organising top quality events.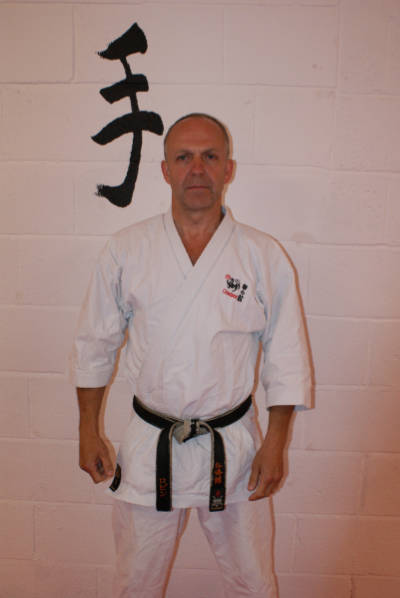 Rob Edwards, Assistant Instructor travelled to Japan in early December to train, along with a delegation of senior instructors from JKS England and karateka from all over the world, in the JKS International Seminar in Tokyo. After a week of incredibly hard training, Rob attempted and successfully passed his third degree (3rd Dan) Black Belt in front of a panel of senior Japanese JKS Instructors.
The year closed with the JKS Xmas Course, again well attended by Grantham members, and where father and son Andrew and Thomas Harding both passed their Black Belt examinations bringing the total of 'new' Black Belts to seven in the year – more than in any other year.
When the 'tally' of new Black Belts is taken in tandem with the achievements of Rob Edwards and Ed Dixon, it is easy to see why we feel that 2017 was indeed a vintage year for Grantham Karate.