The Instructors
Chief Instructor
Sensei Geoff Dixon, 5th Dan JKS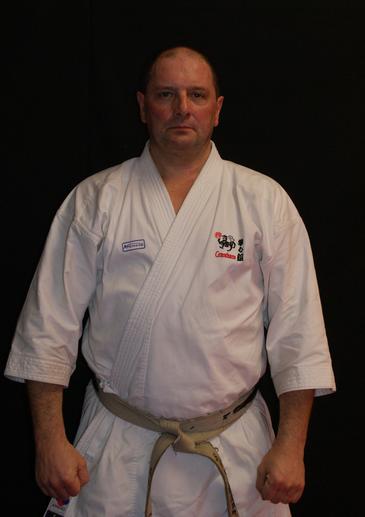 After being mugged by a couple of 'likely lads' in his home town of Middlesbrough, Geoff originally intended to take up Judo as a means of future self defence. However, arriving at the Budokan on the wrong night Geoff found himself enrolled in Wado Ryu Karate with Sensei Norman Wall who at that time was a 4th Dan. Having gained 5th Kyu the Club relocated to a different part of town, forcing Geoff to curtail his Karate training.
Geoff moved to Sheffield with his job, and started Shotokan training in 1985 with the KUGB under Sensei Paul Sharpe. After opting to start Karate training as a white belt again, Geoff gained Shodan with Sensei Eneoda in 1989 and Nidan in 1992.
Geoff and his wife, Elizabeth, moved to York in late 1992 and where he began training at York Kenshinkan with Sensei's Ian McLaren, Gordon Thompson and others, gaining Sandan at Sensei Eneoda's Crystal Palace course in 1997. Whilst living in York Geoff also studied Shodokan Aikido with Sensei Tish O'Brien, achieving Shodan in 1997
The year 2000 saw Geoff and Elizabeth returning to Elizabeth's home town of Grantham where, after training with some of the local clubs, Geoff decided to set up Grantham Shotokan Karate Club within the English Shotokan Academy gaining Yondan in 2003.
Geoff Sensei graded to Godan in 2012 with Sensei Brian Seabright, Chairman of the BKA and re-graded with Shihan Masao Kagawa at the JKS European Championships in Copenhagen in 2014.
Geoff holds Judge 'A Kata' and Referee 'A Kumite' qualifications within the English Karate Federation, is a British Karate Federation 'elite' official and is Chief Referee and Head of Referee Development for JKS England.
In 2015, Geoff fulfilled a long-held ambition to visit and train in Japan successfully completing 'Kangeiko' (Special Winter Training) at the JKS Honbu Dojo Tokyo.
Assistant Instructors
Neil Bukavs, 3rd Dan JKS
Neil started karate in 2004 at Grantham Shotokan, achieving Shodan in 2008 with the Japan Karate Do International (England) under Sensei's Williams, Barron and Dixon. He has been a dedicated student regularly attending both courses and competitions as part of his training.
Achieving 2nd Dan in June 2011 with Sensei Brian Seabright (7th Dan) of the BKA Neil has now gone on to pass Sandan under the watchful eye of Kagawa Shihan (8th Dan) in Nottingham in March 2015.
Robin Edwards, 3rd Dan JKS
Rob started training in the late 80's spending most of his time getting 'beaten up' by Sensei Gerry Breeze. Gaining 1st Kyu in 1989 with Sensei Kawasoe, however, decided to take some time off before attempting Shodan.
Rob returned to karate after more than 20 years "rest" in 2010 when he joined Grantham Shotokan Karate Club and finally fulfilled his ambition to be a black belt at Manchester in June 2011 with Sensei Brian Seabright of the BKA and other senior instructors. Rob passed his 2nd Dan with the JKS in Chester in 2014 at the annual residential course under a panel of senior JKS England instructors.
He is a JKS England Referee, EKF Kumite Judge A and a provisional EKF Kata Judge B. He is pictured by Mount Fuji with Sensei Geoff (right).
Edward Dixon, 2nd Dan, Assistant Instructor (Juniors and Mini Tigers)
Ed started karate training at the age of 6, passing his 1st Dan Black Belt with Brian Seabright Sensei (7th Dan) with the British Karate Association (BKA) and more recently gaining 2nd Dan at the JKS England and Wales Summer Course with Jan Spatzek Sensei, Alan Campbell Sensei and other renowned instructors.
Elizabeth Dixon, 1st Dan, Head Administrator
Elizabeth started training in 2006 and gained her Shodan with Sensei's Saito, Williams and Barron at Holme Pierrepont in 2010.
Elizabeth is a qualified table recorder and is responsible for ensuring the smooth running of the club's administration as well as being our safeguarding officer.
Black Belt Roll of Honour
Geoff Dixon (5th Dan)
Neil Bukavs (3rd Dan)
Rob Edwards (3rd Dan)
Ed Dixon (2nd Dan)
Elizabeth Dixon (1st Dan)
Jennifer Dixon (1st Dan)
Sue Frankcom (1st Dan)
John Winter (1st Dan)
Carole Hobster (1st Dan)
Andrew Murr (1st Dan)
Mark Fells (1st Dan)
Matthew Murr (1st Dan)
Richard Stapleford (1st Dan)
Sam Trigg (1st Dan)
Ethan Wen Leffman (1st Dan)
Michal Hoffmann (1st Dan)
Asia Hoffmann(1st Dan)
Andrew Harding (1st Dan)
Thomas Harding (1st Dan)
Lapsed Black Belts
Dave Wilson (5th Dan)
David Anderson (2nd Dan)
Mark Riddle (1st Dan)
Stuart Fraser (1st Dan)
Beth Rodway (1st Dan)
Molly Hawthorne (1st Dan)
Jason Johnson (1st Dan)
Ian Potterton (1st Dan)
Sean Marsh (1st Dan)